Timothy Marris DO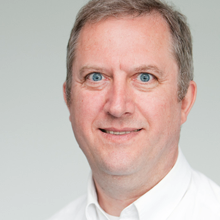 Tim Marris ist ein sehr erfahrener Dozent, der seit 1982 regelmäßig Postgraduierten-Kurse unterrichtet.
Er ist Gründungsmitglied der Fakultät des Sutherland Cranial College of Osteopathy (SCCO) und unterrichtet in diesem Rahmen unter anderem regelmäßig an den SCCO Kursen in Großbritannien und Deutschland (Proitzer Mühle).
Tim Marris schloss seine Osteopathieausbildung 1978 an der British School of Osteopathy ab. Er lebt und arbeitet in der Grafschaft Kent in Großbritannien.